Tahina sauce
for falafel wraps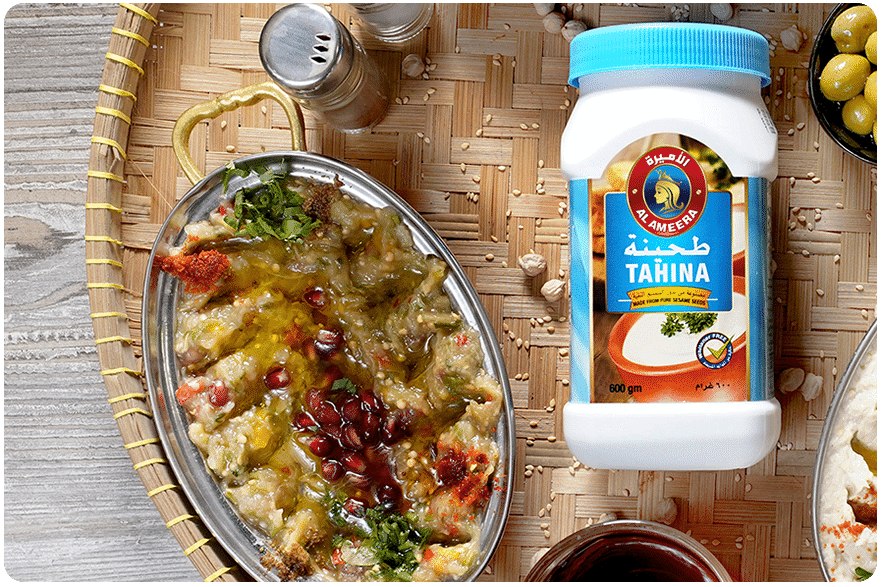 Baba ganoush is similar to hummus, but it calls for grilled or roasted eggplant instead of chickpeas
1 large eggplant
2 cloves garlic (minced mashed)
3 tablespoons tahina
¼ -½ cup fresh lemon juice
1 teaspoon salt
3 teaspoons Al Ameera Virgin Olive oil
Chopped parsley
2 tablespoons lemon juice
1 tablespoon Roasted pine nuts
2 teaspoons Al Ameera Virgin Olive oil
1 table spoon pomegranate arils
Total 45 min
Cook time 20 min
Preparation time 25 min
Preheat the oven at 375 degrees then place the eggplant for 20 minutes until the outer crust crisps and the inner part becomes soft.
Take the Eggplant out and allow 20 minutes to cool. Open the outer crust and take out the inner part and leave it on a sieve to drain. Allow to drain for about 10 minutes.
Place the eggplant in a medium size bowl then add the garlic, tahina, lemon juice, salt, and olive oil and mix all together.
Instead, you can mix using food processor for around 2 minutes. Move the mix to a serving bowl and add lemon juice and olive oil on the top. You can also use chopped parsley, roasted pines and pomegranate arils for garnishing.
Tahina sauce
for falafel wraps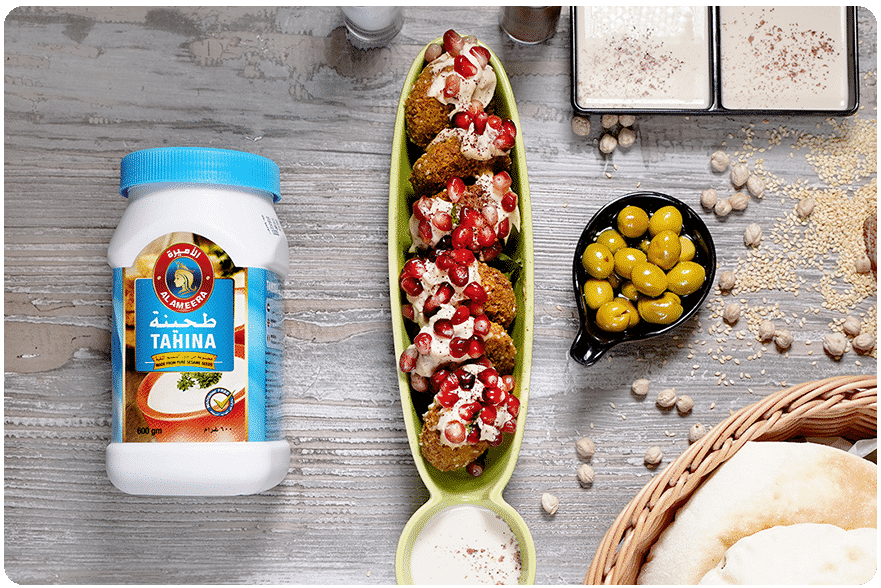 Tahini sauce is rich, creamy, perfectly smooth, nutty and tangy. Its subtle garlic flavor enhances the toasted sesame flavor, rather than overwhelms or detracts.
1 cup Al Ameera Tahina
2 small cloves garlic (minced and mashed)
¼ lemon juice (more can be added upon personal taste)
¼ to ½ teaspoon salt
½ cup water
2 tablespoons lemon juice
2 teaspoons Al Ameera Virgin Olive oil
1 tablespoon pomegranate arils
Total 10 min
Preparation time 10 min
Servings  About 2 Cups
Add Al Ameera Tahina, crushed garlic, and lemon juice in a bowl and stir. Start adding water slowly little at a time up until you reached a heavy creamy texture. Add salt, starting at a half a teaspoon, to taste. You can add more salt and lemon juice if required.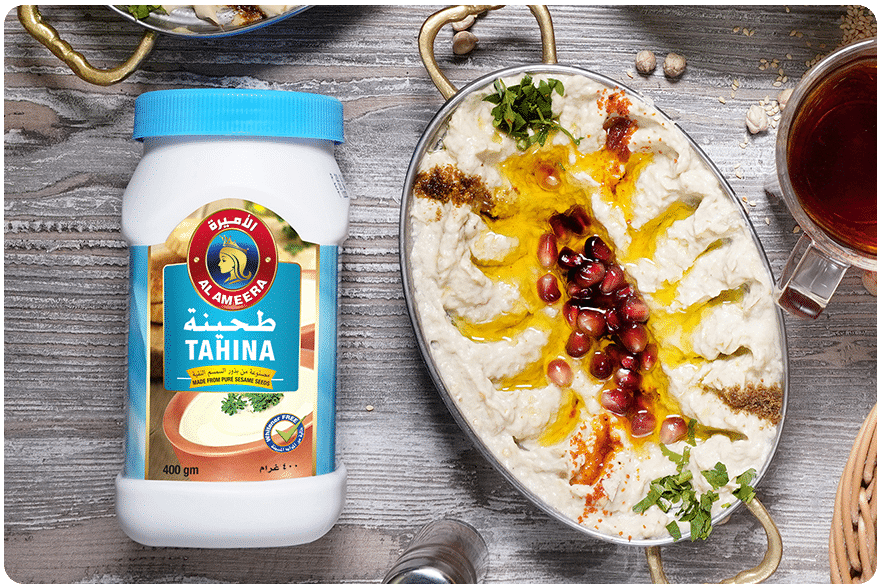 Mutabal is a smoky Middle Eastern dip made with eggplant. This is a beautiful, creamy dip and is a wonderful way to use brinjal or eggplant
2 eggplants
2-3 tablespoons sesame paste (tahina)
half a Lemon
olive oil (1-2 tablespoons)
2 cloves of garlic
100 ml yoghurt
salt
chopped parsley for decoration
2 tablespoons lemon juice
2 teaspoons Al Ameera Virgin Olive oil


Total 40min
Cook time 20 min
Preparation time 25 min
Bake the eggplants, clean them and then drain them within hours. When well drained, mix them or chop with the knife. I like to cut them with the knife; it remains a bit of the original texture. You can mix them and you get a smooth puree, but certainly the traditional version doesn't require the use of mixer.
Add the ground garlic, lemon juice, salt, tahina paste, oil and mix
Add yogurt (if you want them to be for lent, put soy yogurt or don't put at all). Homogenize well.
Taste and season with what ingredient you think you like best. Garnish with chopped parsley.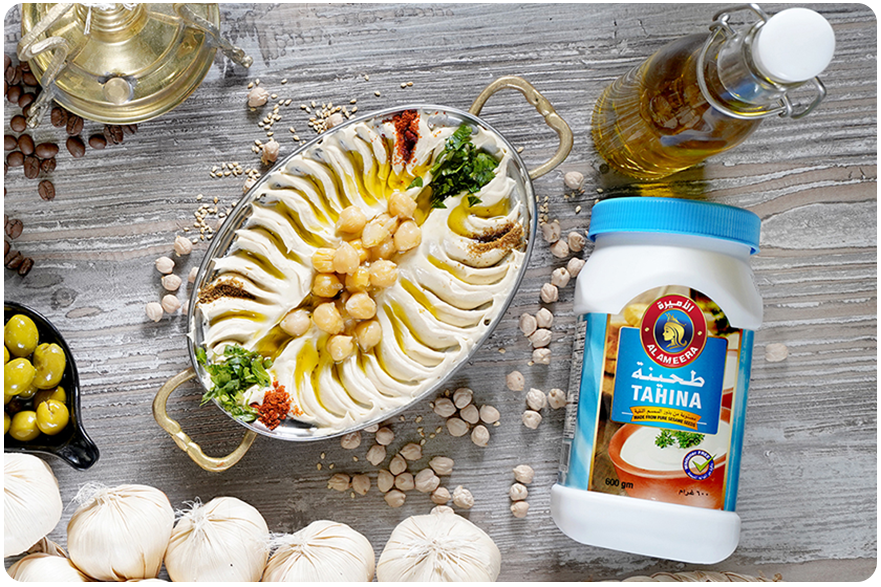 hummus is a delicious spread or dip made from chickpeas, tahini, lemon, and spices. 
1/2 cup of al Ameera Tahina
14 oz (400g) canned chickpeas, rinsed and drained
¼ cup fresh lemon juice
2 cloves garlic (minced and mashed)
¼ cup water
¾ to 1 teaspoon salt
Al Ameea Virgin Olive Oil
Roasted pine nuts
Parsley (chopped)
Total 10 min
Preparation time 10min
Serving  3 Cups
Blend Al Ameera tahina, chickpeas, lemon juice, garlic and water in a food processor until smooth. Add salt starting at ¾ teaspoon, to taste. Move to serving dish and add Al Ameera Virgin Olive Oil, pine, and parsley.